Cone Beam (CB CT) implant diagnosis provides a precise and predictable way for Dr. Klim to plan and replace missing teeth with natural, functional implant placements often superior to traditional dentures and bridges.
Dentists have struggled for years to create natural replacements for missing teeth. Dentures and bridges have significant drawbacks, and never truly duplicate the appearance and feeling of your natural teeth. Thanks to space age materials and research, today's dentist can use much more practical tools to rebuild your smile. Dental implants replace missing teeth with permanent, natural-looking substitutes.
Implants fit into the jawbone like the root of a natural tooth. Once an implant has full bone integration (approximately 4-6 months), it will provide a solid, non-mobile support for replacement teeth which act and feel like natural teeth.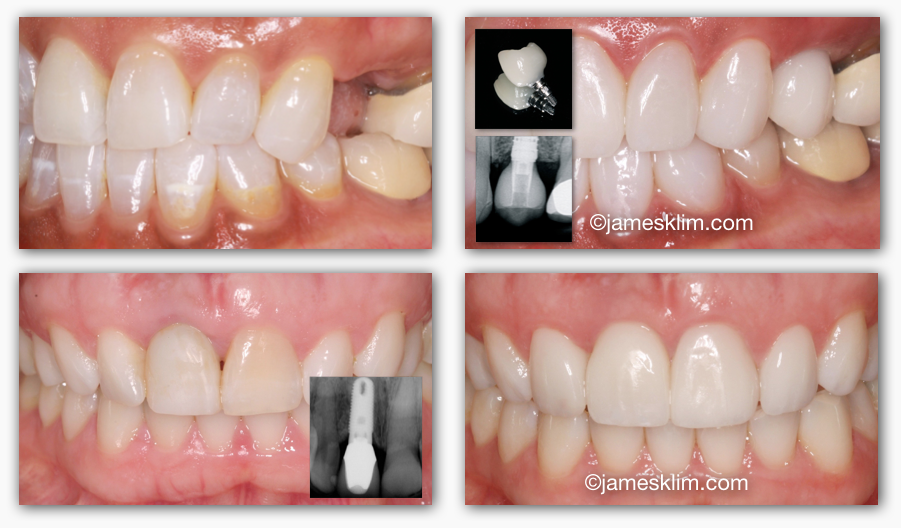 Cone Beam 3D technology provides precise planning and implant placement using an implant placement guide.  In our office, we plan the implant placement by first virtually designing the restorative crown and/or prothesis with our Sirona 3D CEREC and Galaxis software.
Planning virtual surgery with the software first, prior to implant placement, will facilitate an implant placement guide and assure a safe implant placement, bone/soft tissue grafting when needed, and final restoration.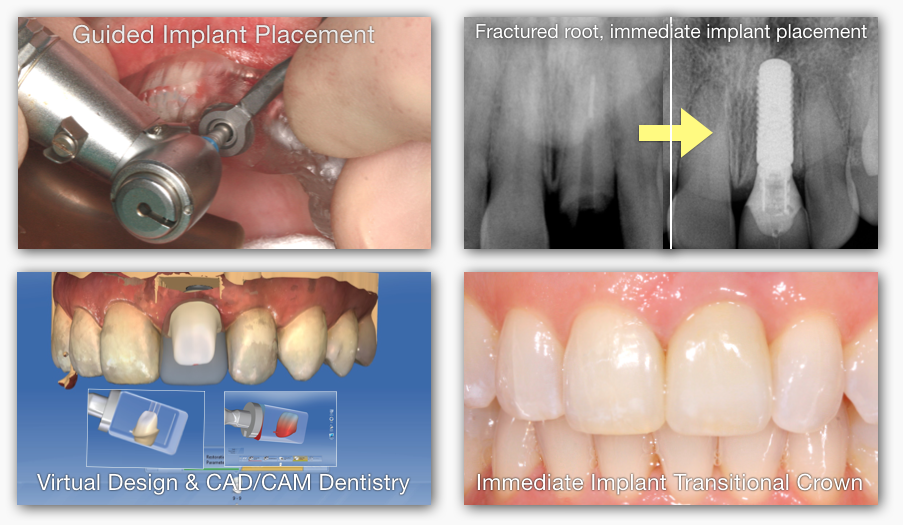 One thing that is unique to our restorative implant services is that Dr. Klim digitally designs, fabricates, and customizes the implant abutments and final implant crowns using digital CAD/CAM technology.  Know internationally for his cosmetic lecturing and technique manuals, his customized functional and artistic results attract patients from around the the globe.  Dr. Klim is also known for being the dentist for the dentists.

Implant supported teeth can provide distinct advantages over traditional methods of replacing missing teeth:
Proper chewing function is restored so you can enjoy foods too difficult to eat with traditional replacements.
Implants restored with teeth will often replicate the look, feel and function of your natural teeth.
No adhesives are required if already wearing a denture.
Dental implants have no clasps that cause damage to remaining natural teeth like removal partial dentures.
Implant supported prothesis will help avoid painful and irritated gum tissue.
Dental implants improve speech by eliminating or reducing the "fullness" of full or partial dentures.
Healthy teeth are not "cut down" in order to accommodate the replacements as a traditional bridge.
Dental implants help stop the progressive bone loss and shrinkage of your jawbone by "mimicking" the roots of natural teeth.
Implants are clinically proven, with a high success rate when placed and properly restored and maintained.
In our office, Dr. Klim is the quarterback for implant planning, implant placement, and final implant restorative rehabilitation.  Depending on the complexity of the implant placement, when needed Dr. Klim will partner with his doctor surgical team for grafting and implant placement procedures.  Once implants have integrated, Dr. Klim fabricates the implant abutments and final crown ceramic work for the final customized aesthetic results.
Our office is located in Santa Rosa, but we welcome patients in from San Francisco, Sonoma County & Bay Area.
Contact Us
James Klim, DDS, FAGD, AAACD
Our Santa Rosa, CA office serves Sonoma County & the Bay Area including San Francisco, Petaluma, Napa